Well, I have finally jumped in feet first and started a blog! OK, so I'm a little behind the times, but I'm getting there :)

Anywho, I saw that a whole bunch of people have blogs on their knitting or crocheting, so since I do both, among other crafty things, I figured - Why not?!

As the holiday season approaches and I find myself sitting at home working on some gifts when I figured I would give me fingers and wrists a bit of a rest. OK, so maybe not a rest so much as a change of pace *grin* and thought I would share some of my latest creations.


OK, so this isn't a Christmas gift for anyone, I just love how this blanket turned out. This was my first attempt at Tunisian Crochet (otherwise known as the afghan stitch). It took forever! This was one of those projects that when you finished a section you put it down and moved on to something else for a breather :) But I couldn't be more pleased with the results.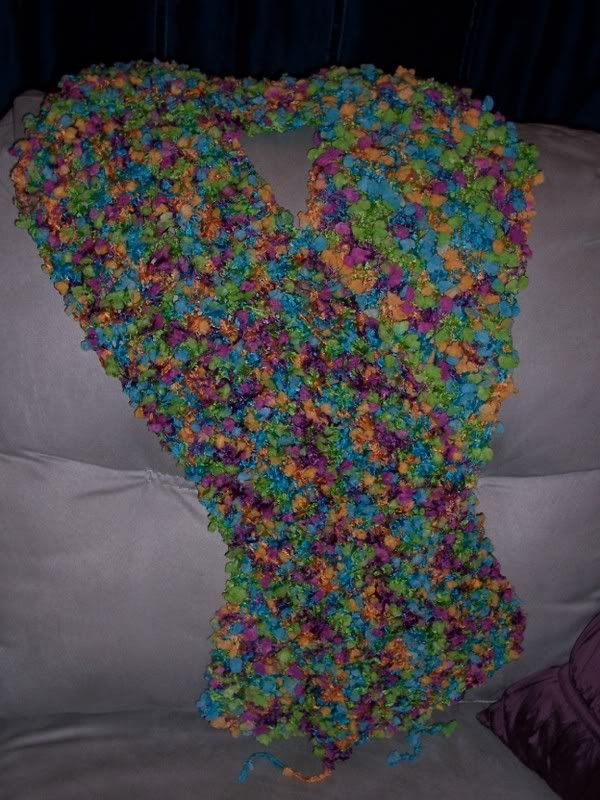 Here is the a scarf I knitted for my sister. She came by my house one afternoon while she was out shopping and handed me 2 skeins of this yarn and asked me to make her a scarf with it. These skeins were only 37 yards each! So of course my smart response was do you wnat it super skinny or super short?? *laugh* So 2 more skeins were purchased and here are the results. She loves it, so I'm glad. But I told her she was never aloud to purchase yarn without consulting me first! Especially if she wants ME to be the person making something with it *giggle*


OK, time for me to catch some snoozes. I guess I will get to posting the actual Christmas gifts another time :)