WARNING: Lots of pictures in this one.

Well, now that I have completed my National Boards portfolio, I thought it was time to catch up on some projects. I decided to take stock after reading PhD Knitting's post on her UFO addiction to see what I had started around my house. First up are the Arm Cozies from Lion Brand that I started a few months back. I used Wool-Ease instead of their cashmere blend yarn simply because I had it in my stash. They are about 50% done. Of course now that warmer weather is coming (if Mother Nature can make up her mind that is) I have no real draw to them except for the fact that I think they will look really neat when finished. After working the pattern for this long though, I am contemplating on frogging them and re-doing them on circulars so that I don't have to deal with the seam. At the same time, I like making them both at the same time this way I know that my decreases are on the same rows and they will be the exact same length and tension. So I'm really undecided as to what to do with them. Any thoughts from you all?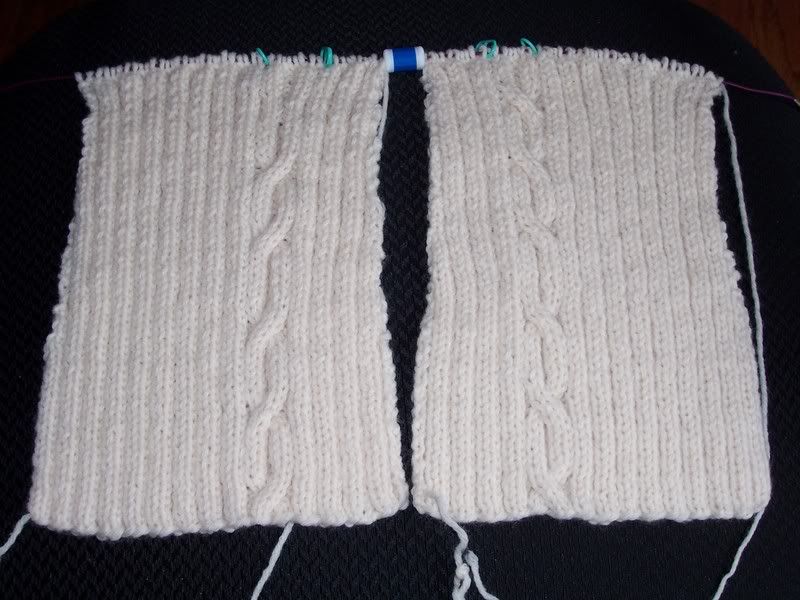 Next up was a recent trip to Cloverhill Yarns were I picked up several skeins of Brown Sheep's Cotton Fleece to make the Monica for my nieces. Their birthdays are in May - 10 days apart! For the younger one, I'm using Raging Purple for the body and Wisteria for the top ruffle. For the older one (my sister doesn't think she will like the ruffle) I'm just making the tank in Prairie Lupine minus the ruffle. I pulled out all my size 6 needles that I had to get started. I'm going home this weekend for Easter, all these pieces will be in my knitting bag to take along and work on. The girls will be there too, so it may be a little tricky with them around, but at the same time I might get a better idea as to whether or not the older one likes the ruffle or not. Who knows.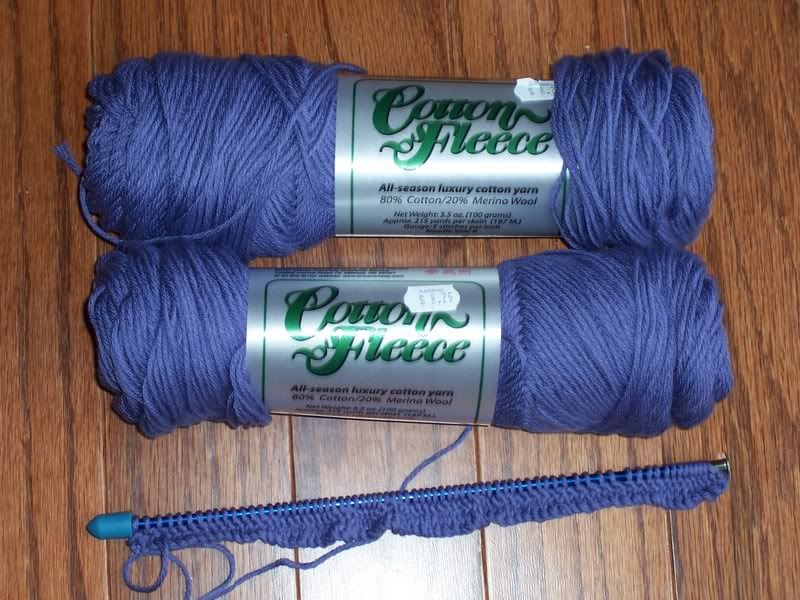 Below is my first sock! I'm using Lana Grossa's Meilenweit Cotton. It's a very simple sock pattern. Of course that won't last long as I already have patterns for socks with pretty patterns. The tricky part for me will be when I get to the foot portion as I am a size 10 and most patterns I have come across are made for a "medium" size foot. I purchased 2 skeins of this yarn on the shop owns recommendation, but I am really hoping that I don't use that second skein. I do like the color variation though.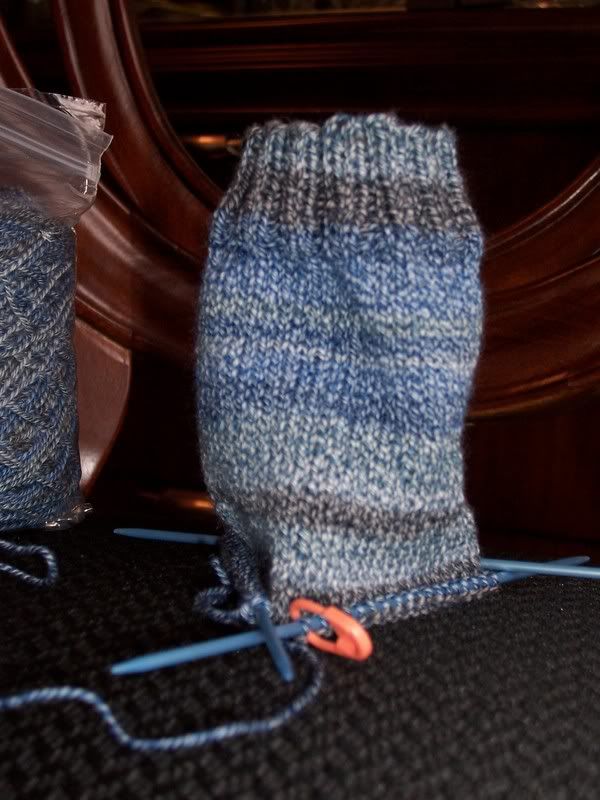 As you can see, I am building my sock yarn stash. The two skeins of the Louet Gems were purchased to make a Lilac Sock pattern from a sock KAL that I joined. Guess I should probably finish the basic pattern I started above before I start on a more intricate pattern. Maybe? Maybe not? I guess I'll see where the wind takes me :) The other two skeins, well, I liked the colors and I'm sure I can find a pattern for them. I think I might use the On-Line yarn for the Monkey socks from Knitty, but I have to check the pattern to see if it's enough.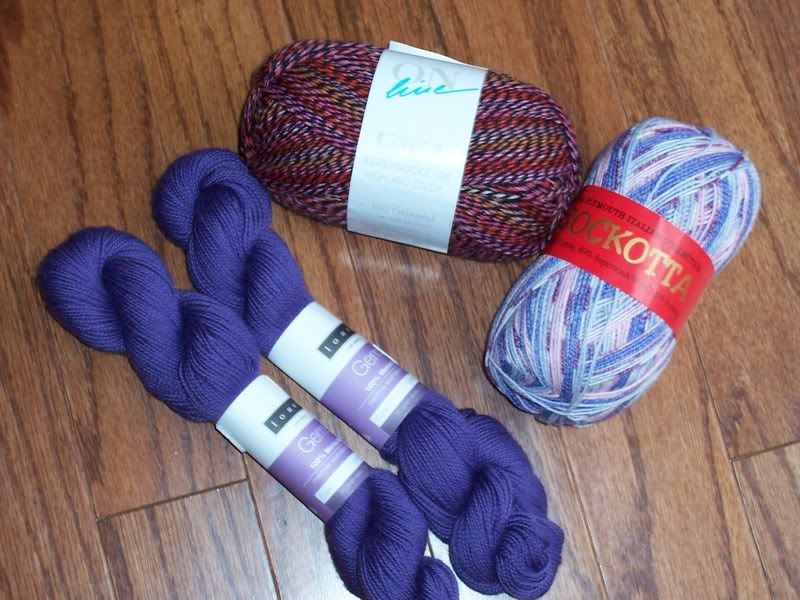 I am about 45% complete with My So Called Scarf from Sheep in the City. I made some minor edge adjustments so the edges are a bit smoother. I HEART this Malabrigo yarn!! Of course after working for a few nights on size 2.5 for socks and size 6 for the tank these size 11s feel HUGE in my hands. Takes some getting use to. This picture makes the yarn look really blue, but it's a gorgeous purple color. Those needle point protectors are teddy bears! I just couldn't resist buying them when I found them online. Yes, I have a thing for teddy bears as well as fairies.
OK, next is the Braided Cable Scarf from MimKnits. I purchased two skeins of Brown Sheep's Lamb's Pride. I wanted to test out this yarn for possibly using it for the Saffron Cables blanket. I chose the pattern to also see how cables would look in this yarn. I really love the color. Unfortunately this photo doesn't really show off the cable work in this scarf.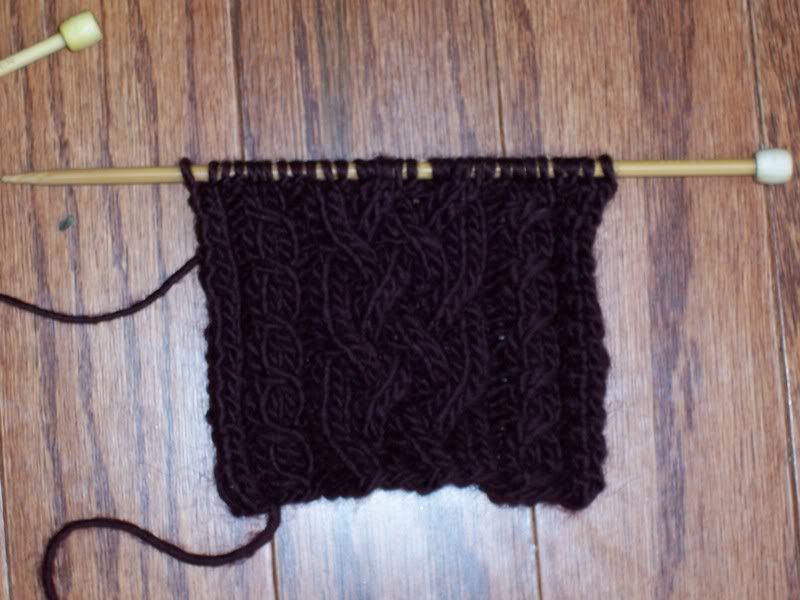 Next is a scarf I started for my younger sister. She saw this ticker tape yarn and just fell in love with the colors and bought a few skeins and asked me to make her a scarf out of it. I didn't know what to do with a tape style yarn, so I make a simple stockinette stitch with a garter stitch border. The colors are really nice, but I am bored with the pattern! Not to mention it is not very easy to keep this tape yarn flat while knitting. I have seen swatches of this stuff knitted up in the stores were the yarn is nice and flat and it looks great. I just can't seem to get the yarn to do the same thing when it's in my hands!


Up next are some dish clothes (or bath clothes) that I made. My first FO in a while! *laugh* The pink one is made from a pattern of Smariek Knits blog. The pattern is called Intertwined Dishcloth. I really liked the cable pattern. The green is a simple basket weave.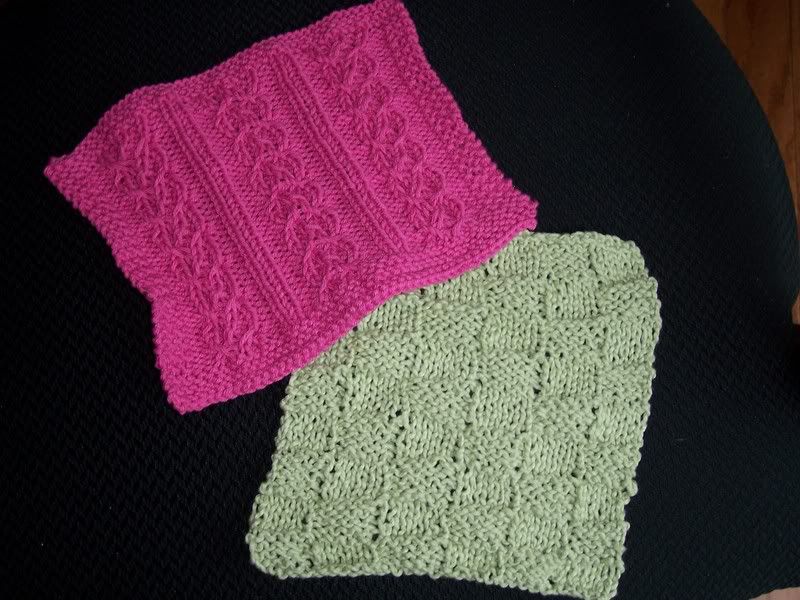 I have also joined a Monthly Dishcloth KAL and have been following the pattern portioned that are emailed out daily. Can you see the pattern coming along? I'm using Lion Brand Cotton-Ease that I had from my stash. It's the original color of Cotton Ease that came out a couple of years ago, not the more subdued colors they have on their site now.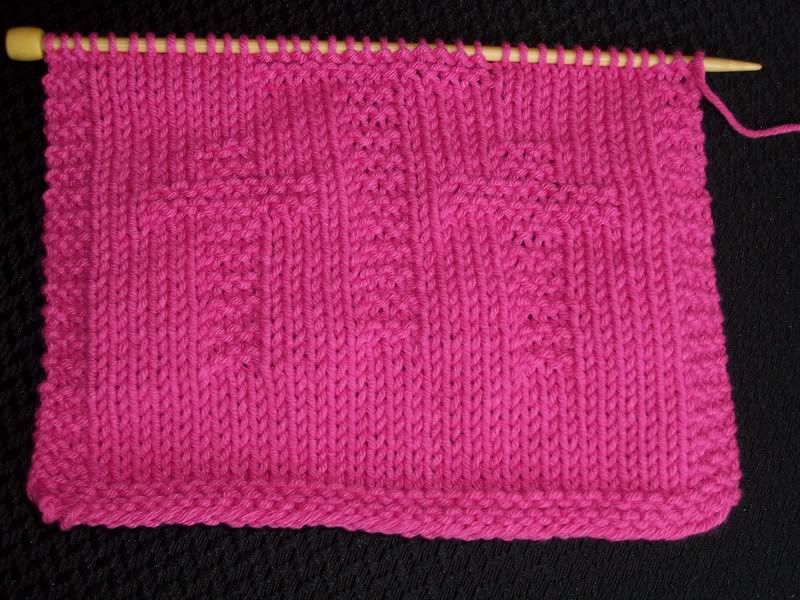 My last WIP is a crochet blanket that I am making for my parents. They have recently redecorated their family room and mom mentioned that she wanted to make a blanket for the room. That was my mother's subtle way of asking my to make her one, since she hasn't touched a crochet hook since the mid 70's! So, I found the perfect shade of cranberry that matches her curtains! I was so excited. Of course the pattern that I'm trying to follow is incorrect, so I have to work out the kink and then get back to it! It's going to be their Christmas gift this year. Yeah. I'm getting a jump start on gifts :)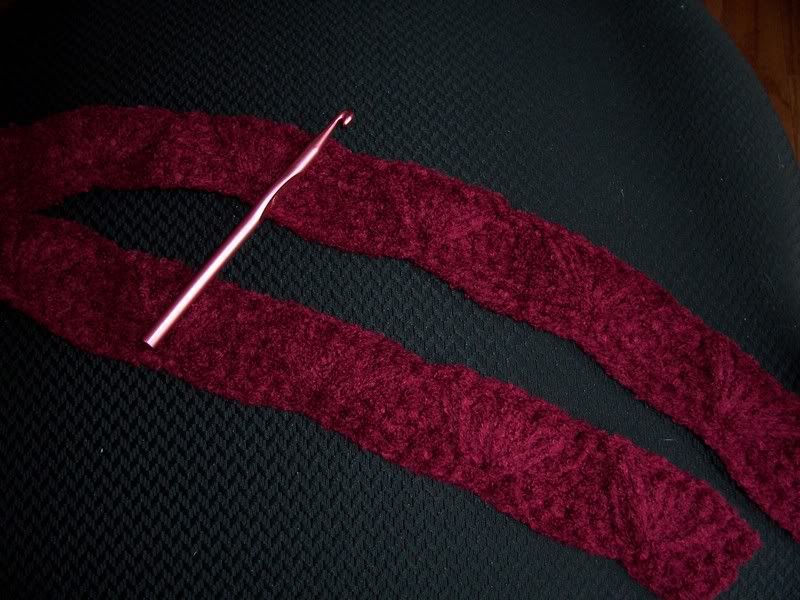 Of course this post wouldn't be complete without Frisco. The last two days here we've had temperatures in the high 70's. I had turned off the heat and opened all the windows upstairs as I get a nice cross breeze when the front and back windows are open. Frisco can never resist an open window with sunlight. So there he is soaking up the rays.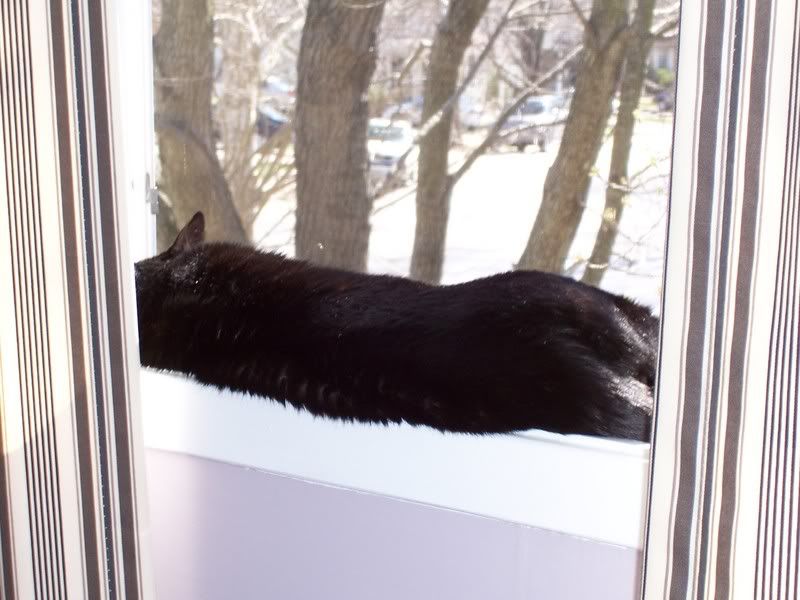 And he wasn't moving from there either!