OK, now that MDS&W is over I climbed aboard the "Knit from Your Stash" bandwagon. I know, I know, a little late, but better late than never as the saying goes. For myself, I will extend it through the end of the year. I have 1 more order coming to me in the mail and then I'm done... till Stitches East that is. That will be my one allowable stumble :) Well... for a yarn addict such as myself, I hope that will be my only stumble *grin*

The last purchased package I am waiting for is for some Cascade 220 Superwash I ordered to make the Babette Blanket from Interweave Crochet Spring 2006 edition.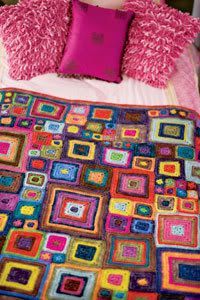 I just love how vibrant this blanket is. I tried very hard to find all the right colors. I would love to make it with the same yarn that is called for in the pattern, but I couldn't seem to find all the right colors. Not to mention that it would have cost a pretty penny to make it in the Koigu Wool Designs KPM yarn. What I really like about the yarn used in the pattern is that it is hand dyed so there are subtle variations in the solid colors and I think that adds a little something to the blanket's appeal as well.
I had debated back and forth between using wool or some sort of a cotton blend. Wool won for the sheer fact that by the time I finish this blanket it will probably be close to winter (if not) and I'd be able to use it. It's a fairly easy pattern to follow and the different sized squares is something I have been wanting to do for a while, I just never had the energy to sit down and figure out the math behind it *laugh* Anyway, if it turns out nice and goes smoothly, I may make a 2nd one with a light cotton blend. Who knows where the tides will take me this summer.

Another crochet project I am considering is the Larger than Life Bag from the current issue of Interweave Crochet.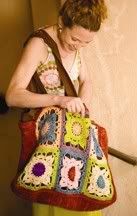 I have plenty of leftover yarn so I should be able to whip up these squares in no time (once I get the magazine that is). Hey! This can be my 1st "Knit from My Stash" project! I'll have to get some help when it comes to lining the inside with fabric. I'm not much for sewing. I think I would probably add a zipper so that whatever I put in it will stay secure. Who knows? I'll have to see how it turns out before I make that decision :)
I seem to be teetering back-and-forth between crocheting and knitting. Sometime soon I need to start making a list of what I am making for who for Christmas and get started! That will certainly be one way to start using up all this yarn in my stash. Not to mention getting a jump start on holiday gifts. I know, what crazy person is thinking of winter holidays when summer has only just arrived! *points to herself* Call me CRAZY! I just don't want to get stuck rushing through projects or worse yet, having to go shopping a week before Christmas because I know I won't get all those items made in time! I really am someone who tries to stay away from malls and unnecessary shopping around that time of the year.