I just love it when I come home and find goodies in my mailbox! I had purchased some yarn on ebay over the weekend and 1 of the purchases was in my mailbox today! Ebay can be so addicting! There are several really nice yarn stores on ebay. Here are just a few of the ones that I have purchased from - Yarnbow, Affordable Yarns, Ewe-phoria Yarns, and HandPainted Wools. Over the weekend I had purchased this skein of Great Adirondack Nassau Yarn. I'm not quite sure what I plan to make with it yet - maybe a thin scarf, some short socks (whenever I get around to learning how to knit socks that is), or a summer tank for one of my nieces. Who knows. I'm really bad about purchasing yarn without a pattern in mind. I really need to change my mindset on how to purchase yarn. The purples are what drew me to this yarn. I am such a purple person. Red too. Well, when a pattern jumps out at me for this yarn, I'm sure you all will be the first to know.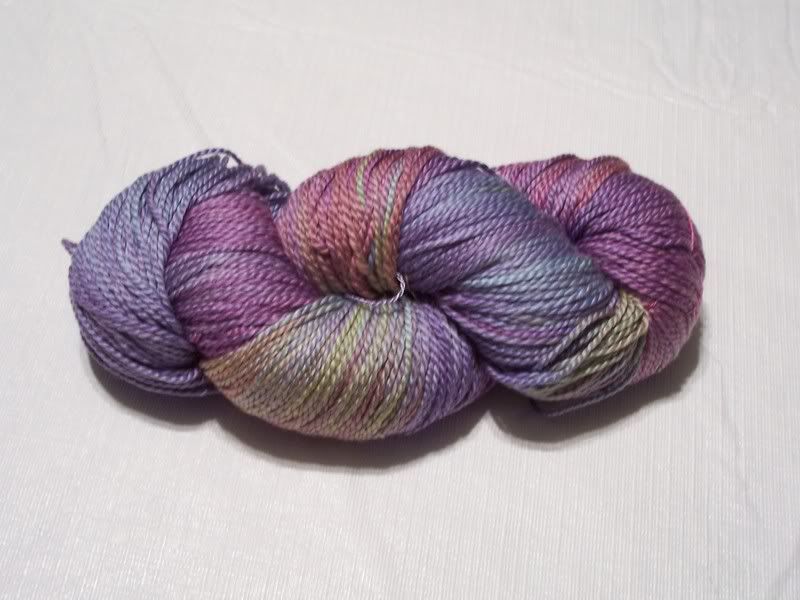 Well, that was not the end of my suprises today! A while back I had placed a special order with Mystical Creations Yarns. I haven't the foggiest as to how I found this site, but they have some really neat stuff at fairly affordable prices! I have been searching for a 50/50 wool/silk blend yarn in the right colors to make the Clapotis from Knitty. When I found Mystical Creations and read that you can create your own colorway, I just had too! I know the "in" color combos seem to be brown and pink, or brown and baby blue, but for some reason, when I bought my current house after my divorce, I really fell in like with how brown and purple look together. So I like to be differnet! The spare bedroom on my house is painted in "Victorian Mauve" and I am dying to paint an accent wall in "chocolate" but I personally painted every single wall in my house before I moved in, and if I don't touch another paint roller for a decade it would be too soon. Of course, knowing me, that might very well be a summer project, but that will have to be after I repaint all the doors in my house white!
So, getting back to my goodies! When I got to my front door, I saw a white box hiding behind my snow shovel! Ooohhh excitement! Sure enough, it was the order I had places with MCY back in January. Special orders take a little longer, and this one took even longer because the first time they tried to dye the colors I wanted the purples came out too light. But look at how gorgeous these colors are! Deep purple, rich brown, milky tan and silvery grey! I just absolutely love it! I know the purple looks a bit blue on the photo, but it is definitely purple in the yarn!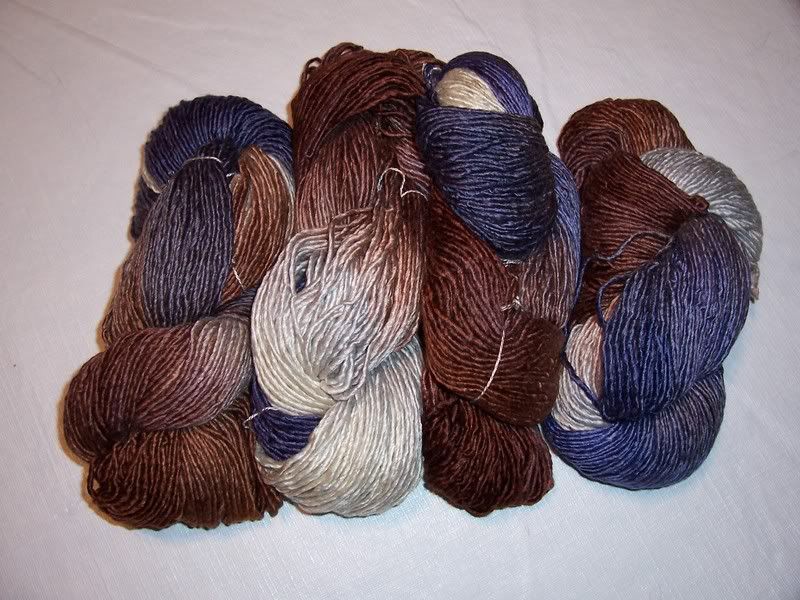 I was a really bad girl when I placed my order! I saw so many yarns in colors that were just "OH!" that I couldn't resist! Yes, I definitely have a yarn addiction. So I admit it! Anyone know of a good 12-step de-stashing program *LAUGH* I just want to make so many things! Here's is a little cashmere! A beautiful and soft 100% cashmere yarn. The colorway is Wild Raspberry, Teal, Purple & Charcoal. It is a lace weight, needle size 0-3, gauge 10-16 stitches per inch over a 4" square - each are appx. 500 yards - 1.4oz. in weight. So, I definitely have my 1st lace project coming up! I even think I have a pretty lace pattern in my books that I want to create. I'll have to look and see.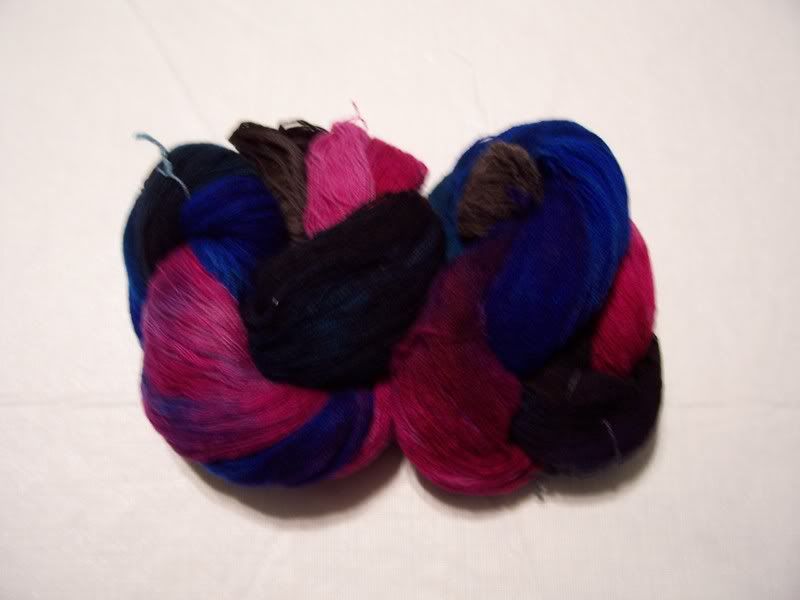 Then I saw this lovely 100% Bamboo yarn in the colorway they call "Merlot" and I thought this would be great to make the Cozy from Knitty. Bamboo is nice and light so I'd be able to wear the shawl all-year-round. It is a DK weight, needle size 7-9, gauge 4-5 stitches per inch over a 4" square. I think I will need to buy a pair of bamboo circulars for this yarn though. I think the yarn might be a bit too slick to work with on my Knit Picks Options.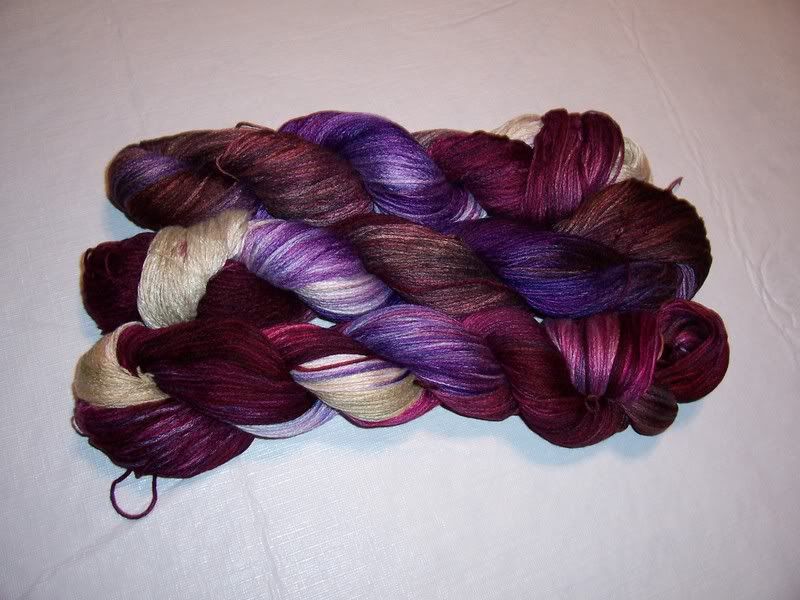 I told you I was a red person, right. Well, they had this kit on sale for Valentine's and the pattern just looked really nice, and I am a shawl person, so I went ahead and added that to my list. Actually, the sale was 15% off your total purchase! This yarn is hand painted - hand dyed 65% Wool-35%Silk Yarn. The colors of Cotton Candy, Wild Raspberry & Lipstick Red. It is a worsted weight, needle size 6-9, gauge 4-5 stitches per inch over a 4" square.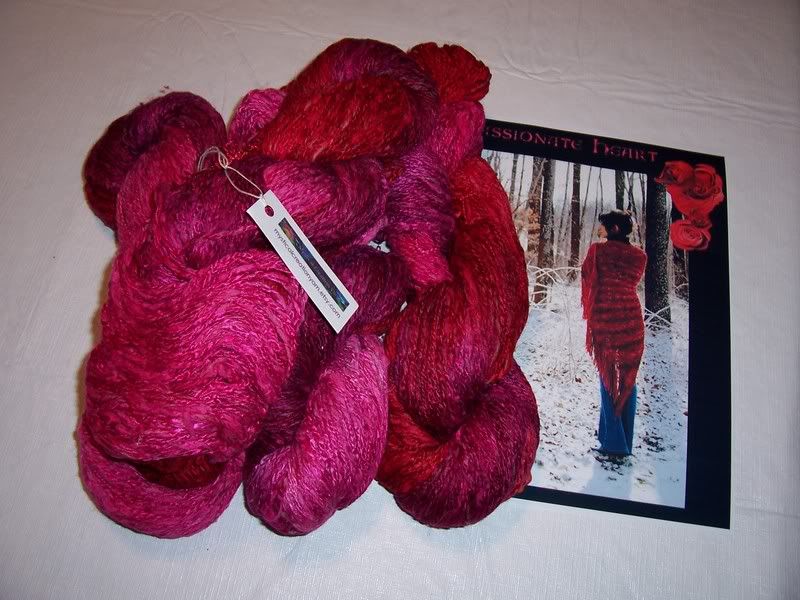 And lastly, yes, there was one more thing I ordered. 100% Alpaca *mmmmm* talk about dreamy yarn to work with! The colorway is called "Hummingbird" and it's a combo of Turquoise, Moss, Burgundy and Purple. It is a sport weight, needle size 4-6, gauge 5-6 stitches per inch over a 4" square.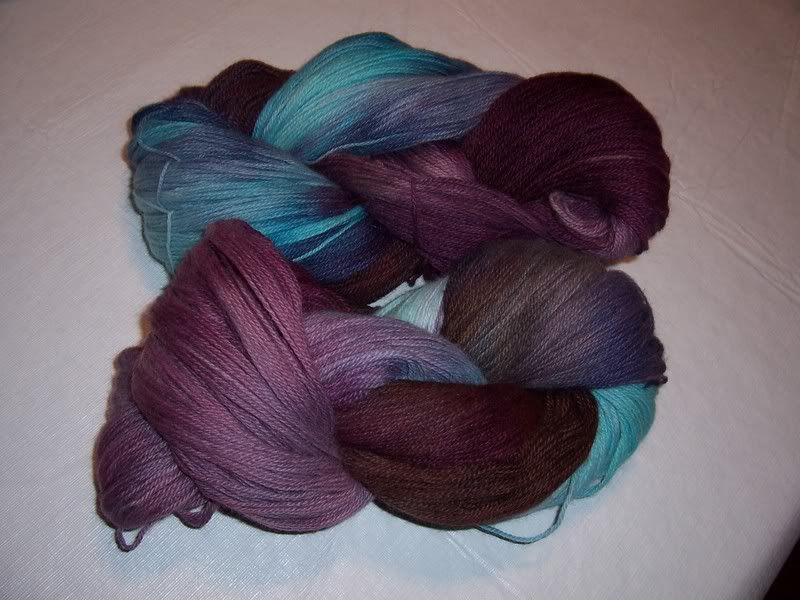 I can't wait to cast-on with all my goodies! I wish I could do it this weekend, but I have got to work on my National Boards portfolio. And I'm suppose to be going with KozyKitty tomorrow to check out a new yarn shop down in Hyattsville called A Tangled Skein! I think after tomorrow that is the end of my yarn shopping for a few months. It is time for me to go into "Stash Busting" mode!