Friday night I had a gf over for dinner. Nothing special, just threw some burgers and dogs on the grill. The special part were the margaritas that kept us going till it was time for the movie!

*note to self: need to stop at liquor store for more tequila, contruae and margarita mix*

I can't believe the shit that is advertised in movie cinemas! Our show started at 9:40PM and we got there at about 9:15 *yes, we had purchased our tickets online* From the time we sat down in the theater till the movie started there were all these advertisement clips running on the screen - commercial for the new Bill Engvall show, even a Sure deodorant commercial! I felt like I was home watching TV *though at home I tend to DVR my shows so that I can FF through the commercials* Come on people! We go to movies to get AWAY from commercials!

Then the movie started 5 minutes late and of course there were like 20 minutes of previews for up coming movies. Apparently lots of children's books are being turned into movie. We saw a preview for The Spiderwicks and another for The Dark is Rising. It was during one of these previews that I had turned to my gf Karen and said, "You know what book I would love for them to turn into a movie? The Golden Compass Series." AWESOME series! And guess what! The last preview we saw before the movie started was one for The Golden Compass! I am so excited that I actually squealed in the theatre 3 seconds into the preview because I knew immediately what movie it was!! *unacceptable behavior for a grown woman I know. I'm a dork! But I rather enjoy being young at heart, much more fun :) * It's coming out in December, guess it will be a Christmas release. So I know what I'll be watching over winter break!

The movie was great. I actually think they could have gone just a tad longer with it. Some things were a bit rushed. We had the funniest guy sitting behind us *and I'm not talking looks since I have no idea what he looked like* he just made some appropriate comments at apprapo moments in the movie that had us cracking up. It was a very enjoyable evening.

It's been neat watching those characters grow up. I was watching the 2nd movie not to long ago and it's so weird to see all of them looking so young! Anyhoo, now I am looking forward to the last book coming out and hope now that the book series in complete, that the other 2 movies won't be too far behind considering the actors are growing up!

Knitting News!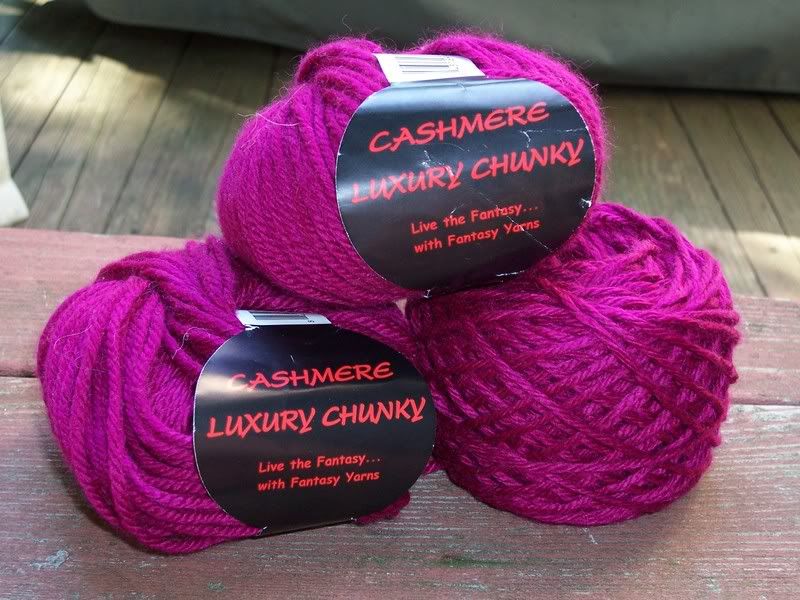 Can I just tell you how neat Ravelry is! *hey, don't player hate! I hear you grumbling. I was there too* Anyhoo, I'm in the process of uploading my stash *I should probably stop now considering I have heart palpitations every time I review my stash to figure out what to make next* So, getting back to the stash, I had purchased several different skeins of yarn from A.C. Moore a while back. *huge sale, couldn't resist* From the skein wrapper I figured out that the brand is Fantasy Yarn *but I can't find anything for that company online* and I have never seen that yarn ANYWHERE else, not in other stores and not on any online vendor *very frustrating* At this point I am guessing that this is simply just an AC Moore line of yarn. Anyone out there know or seen this yarn elsewhere? I lost my train of thought... oh yeah, Ravelry! So, I was cruising through Ravelry to see if anyone else had this yarn, to see what they've made with it *and to see if anything could be made with one lonely skein* and a few people did. Then there was Ellen! Ellen had this yarn in her stash and she had it marked "Trade/Sell" When I took a look at the details, I couldn't believe it! The same color # and more importantly, the same dye lot #! What a co-inkydink! I was actually thinking of giving my one lonely skein away *very difficult since I love the color and well let's face it, I'm a yarn ho!* till this. Of course I contacted her immediately and asked her if there was anything in my "trade/sell" stash that she would like as a trade. Sadly, she didn't want anything, but Ellen must believe in Good Yarn Karma because she mailed me the 2.5 skeins she had anyway! THANK YOU ELLEN!! *rubs her hands together and cackle maniacally as she tried to figure out what to turn these lovely skeins into* And the bonus is that I didn't buy this yarn, so I didn't break my goal for Stashalong! Yippee!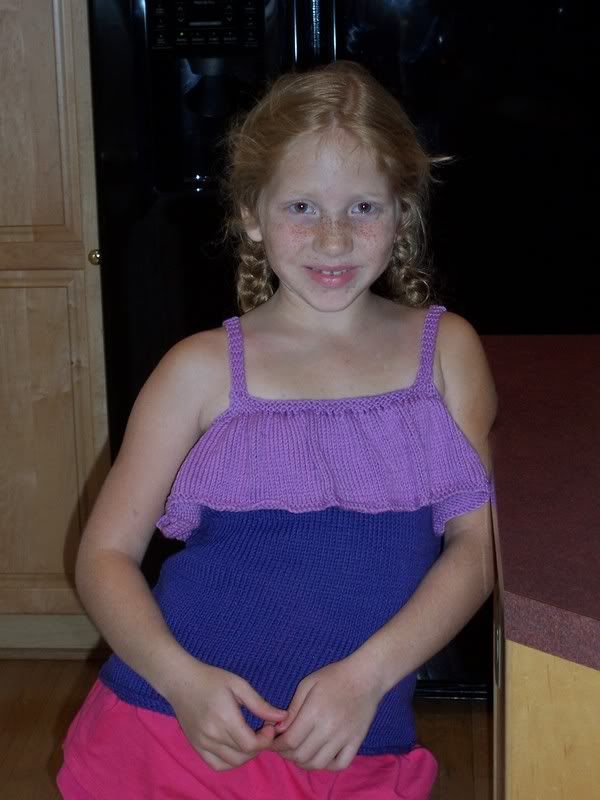 Moving on with the knitting news. The first Monica is OFFICIALLY done and turned over to it's rightful owner! *isn't she the cutest devil in disguise!* I had finished the tank back in June, but when she tried it on the straps were too long and the top was too wide. It too me forever to fix these simple things! I resized the straps, but I was somewhat at a loss as for how to fix the top portion. After asking various seasoned knitters, I found the simplest solution was elastic string! Whalla!

I am currently working on the same patter in a different color for her older sister (minus the ruffle). I made the adjustment of knitting it in the round so I don't have to deal with seaming, and I will be adding a few decreases in the last couple of rows to avoid needed the elastic. That tank should be done fairly soon!