Well, despite the fucked up disturbing dream that had me in tears the morning of my birthday, my mood was lifted when I came in to work and found these on the desk next to my computer.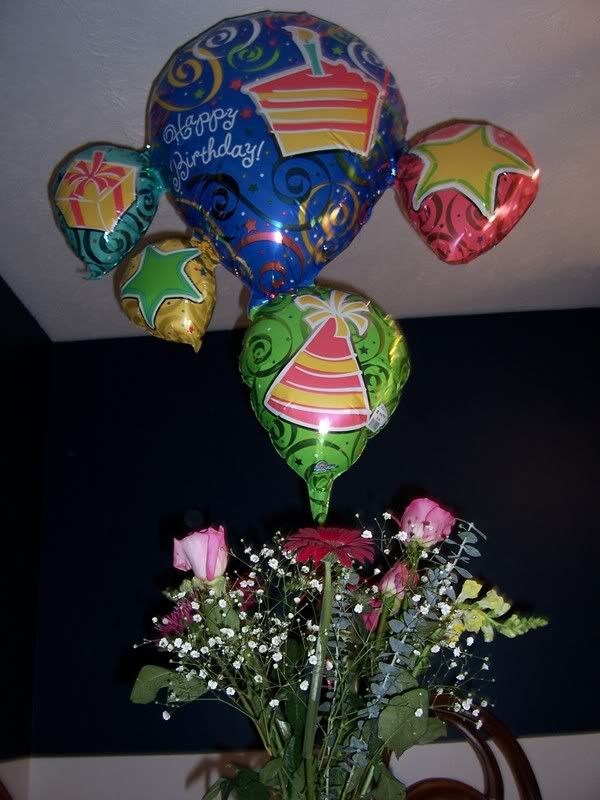 My gf and co-worker, Tracey and Dana left a birthday surprise for me. Just what I needed to lift my spirits. It was a pretty nice day a work. Hot as all hell though! Friday also happened to be the big 5th grade pool party. Around noon, Tracey and Dana come back by the school to pick me up so that I could go to the pool party for a little while. This group of students started kindergarten at my school the same year that I started working there, so it was a bit special for me to see them move on.
After work, Tracey came by my house to pick me up *yes, so that I could drink and not worry about driving* and then we headed down to the Ram's Head Tavern for fun! It was quite a night. KozyKitty met us there as well. KK's son is a waiter there, but he was working upstairs in the dining hall. He came down a few times to check up on his mom and her crazy gfs *giggle* KK's DH also met up with us and we all just had a blast. I think we got several strange looks from surrounding tables when KK's DH lit a straw on fire to try and sing Happy Birthday. Three *or was it four* Long Island Iced Teas, a French Martini, a Cosmopolitan with pear vodka and a double shot of tequila later it was time to go *and yes, that was just what I drank* I was OK up till the bartender poured me a double shot of tequila for my birthday - but then again I am not about to turn down tequila :)
As we were leaving the tavern KK's daughter showed up too. It was quite the gathering in the parking lot. Then my sister and the rest of my family in NY called to wish me a happy birthday. I was three-sheets to the wind and ended up passing the phone on to Tracey. I don't remember much of the phone call *shock surprise* but apparently they were all at my mom's celebrating my birthday without me *laugh* Every time the phone went back and forth between Tracey and myself there was someone new on the phone. Tracey then drove me home and we sat on my front porch enjoying one last drink and chatting. Somehow the conversation did bring up men and we were both in tears for a bit. I'm usually a very happy drunk, but if something taps into the sadness in me I just can't guard against the tears. Luckily, it was short lived.
She went home and I went upstairs and passed out on my bed. I slept like a freakin' baby! But my body got me up at 9 AM! I couldn't believe it. And once I'm up, I'm usually up for the day. So I piddled around the house, ate some food and started to think about what I was going to bring to the Knit in Public day event that was scheduled for 2pm. I did lounge a little on my back deck. My cousin gave me this solar light fairy *yes, more fairies around me house* as a house warming gift last year. Unfortunately, I don't get a lot of sun around my house, so I had to put the fairy on the back porch, on the only corner of the railing that gets any sun at all in order for the orb to glow at night.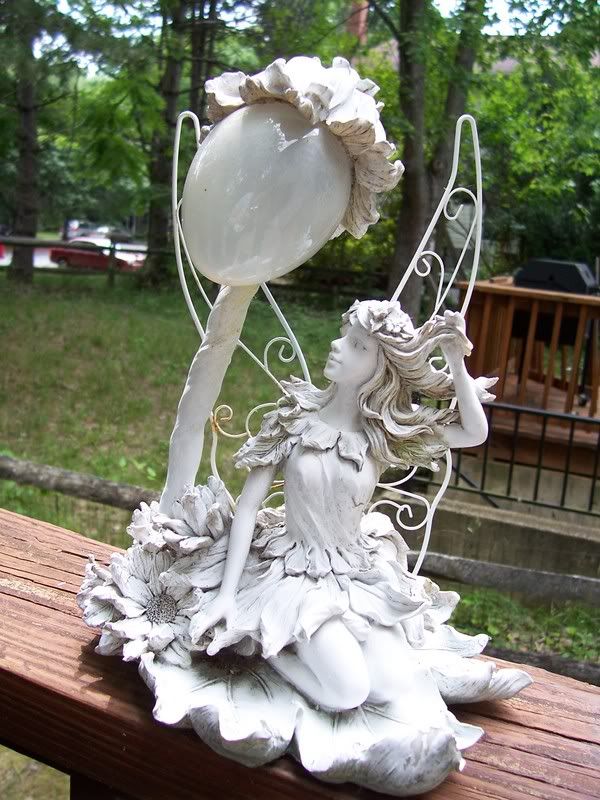 Then I contemplated for a bit of what I could do in my pitiful backyard that gets no sun and has 6 huge trees. This picture only shows three of them, but you can see the bottom portion of the 4th one way over to the left of the pictures. There's also a huge maple tree just off the back left corner of the deck one dead pine tree next to that tree. I would really like to get those two trees removed, but I have to get permission from the HOA before I can do that and in my HOA I would have to get the stumps ground down. Right now that is more $$ then I can afford. *of course if I stopped purchasing yarn for a while I would probably have that $$, but then my sanity would be compromised *laugh* I would really like to do something back here to cover all this dirt, I just did not inherit my father's green thumb for the outside *I just inherited the temper and genes for big boobs from his side of the family* So much work needs to be done to this yard and I am not much of a gardener that I don't know where to start.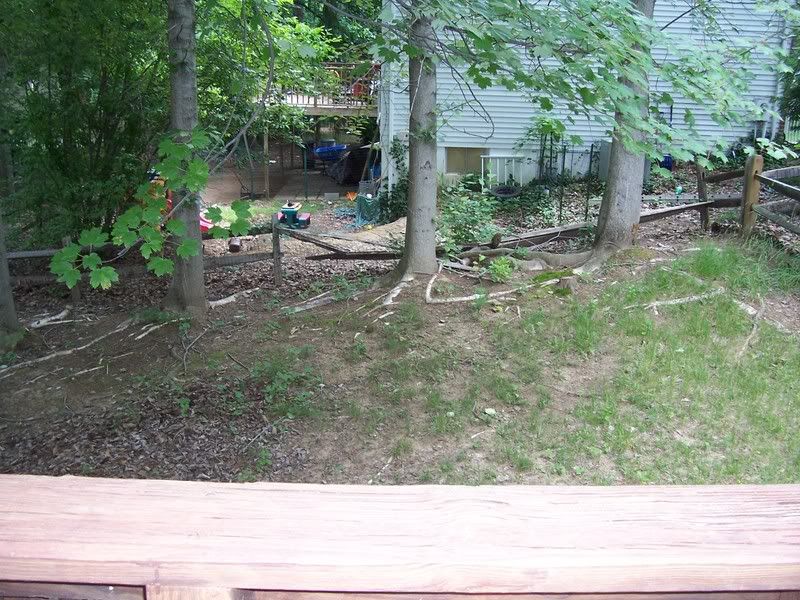 Then I headed out to Knit in Public day and Lake Elkhorn. I was a beautiful day *in the shade that is* Here is Lynn. The wonderful woman that organized the event. She was so worried that no one would show up! Can you see the gazebo behind her and the dude at the tripod? Someone was having an outdoor wedding in the public park.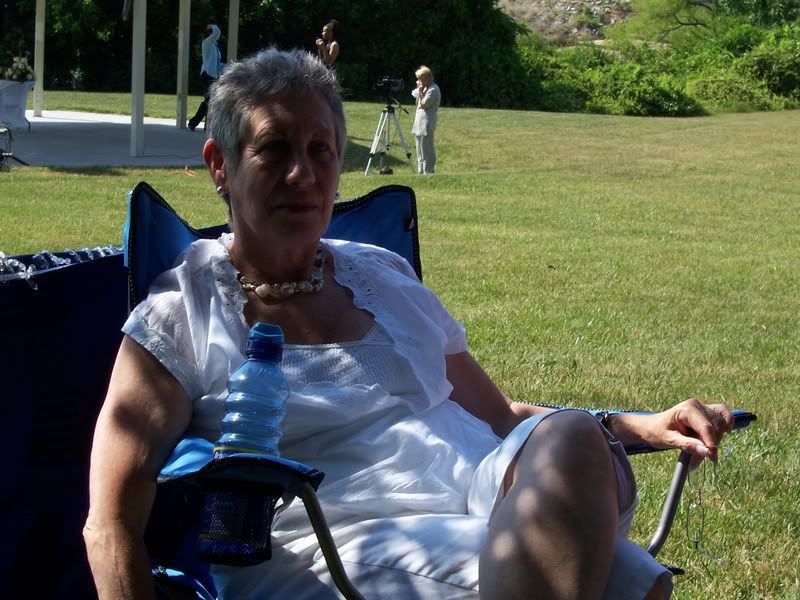 Here are PhD Knitter and KozyKitty just knitting away. Check out those funky glasses on KK! She's working on the Rusted Root pattern while quietly cursing the yarn she's using under her breath *OK, maybe not so quietly - but you know I luv ya KK!* while PhD is working on a cabled baby blanket.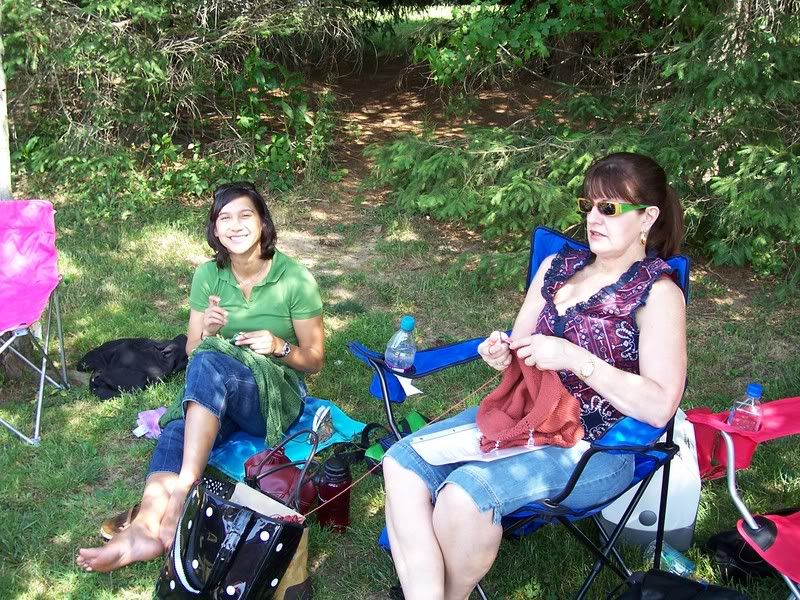 Here is Denis diligently working on yet another pair of toe-up socks. Someone has turned her into a sock addict! Denise I wear a size 10! *hint hint*giggle*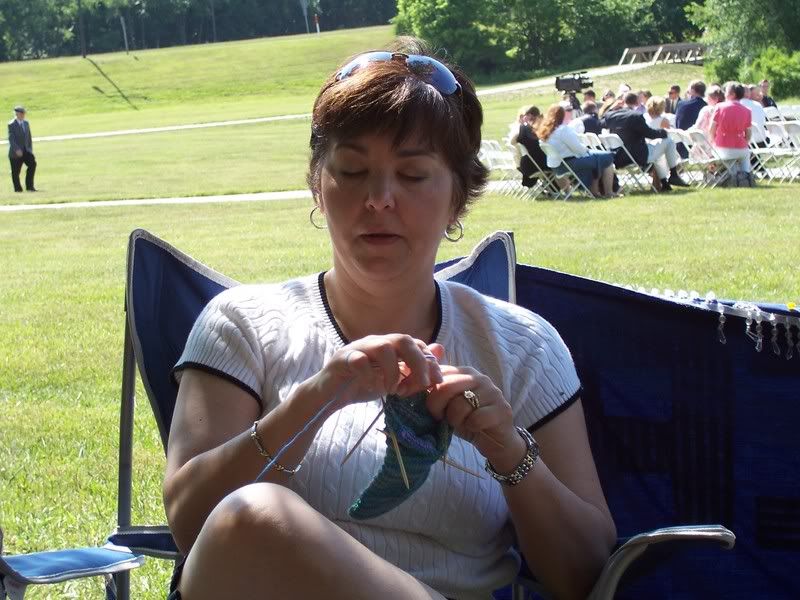 Here are some more knitters. I completely apologize as I do not recall everyone name. Terrible I know.

The one in red in Ivee. I can't believe that she was wearing a sweater that day!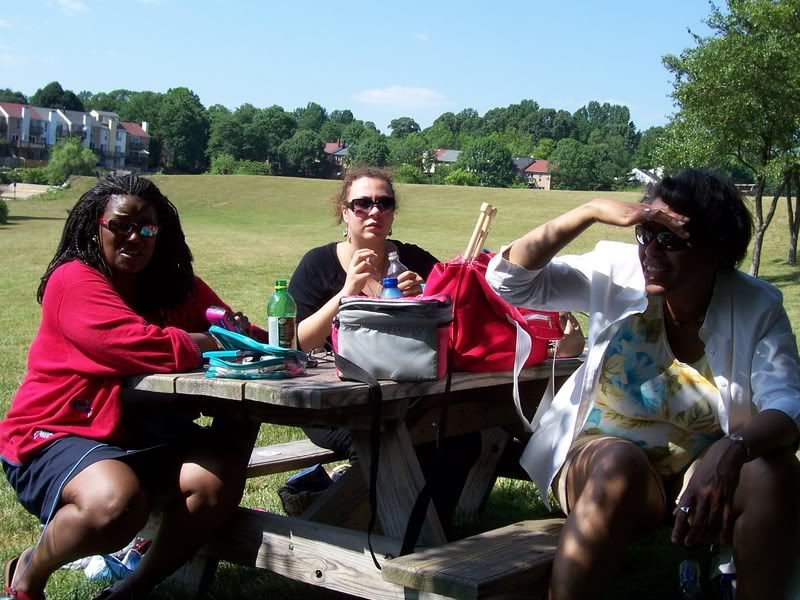 Afterwards, they all went to Lynn's house for dinner and yarn swapping while I went to my sister's to celebrate her birthday *and had several margaritas!*. Yes, for her 6th birthday she got me as a birthday gift the day before! Of course, she told my parents she didn't want a sister because she had her dolls to play with! At the end of the day I just sat back and relaxed on my sofa and Frisco snuggled up beside. All in all what started out as a depressing birthday really turnout out to be a blast *and drinking fest*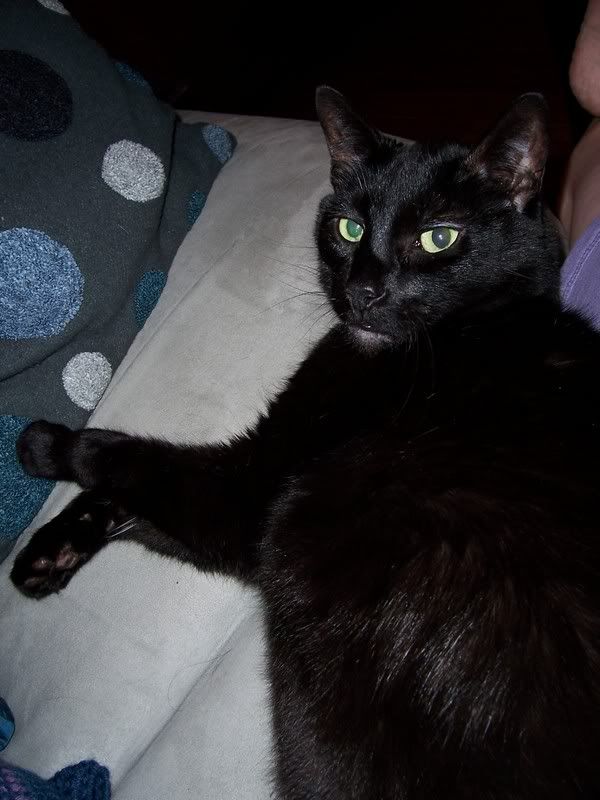 He doesn't look very amused that I was taking his picture.