Yesterday was a crazy day! Work really sucks and I am trying not to think about how "the boss" *cause she certainly is no leader* is really placing our school on a downhill slide for catastrophe. Why is it that that my county cannot find good, intelligent, reasonable people to be principals??


I love these stitch Anyhoo, after work I have my therapy session, then grab a bite to eat on the way to meet up with my Wednesday night knitting group. When I got home from the Stitch 'n Bitch session this was waiting for me at my door!! Suddenly all the bull$hit from work melted away as I couldn't wait to open my package. My kitty was just as interested, and while I was trying to be good and find my camera, he was trying to open my package! I couldn't wait to see what Megan, my coffee swap partner, had sent me :)


She even used on of the HP note cards I sent her in her package!


Here are all the goodies. I retook pictures when I got home from work today, so that I could take better pictures outside. My neighbors thought I was a tad off *image that, me a tad off.... nnaaahhhhhhhhhhhhhh* setting up the display just so for a picture *laugh* Look at all this stuff!! Even now, I'm still so excited about what I got! *did I mention that there a little girl trapped inside me and that no matter what age my licenses says she always rules me :) *
Two different kinds of Espresso bean! Fudge brownie mix *drool* A kitchen magnet. Adorable book plates!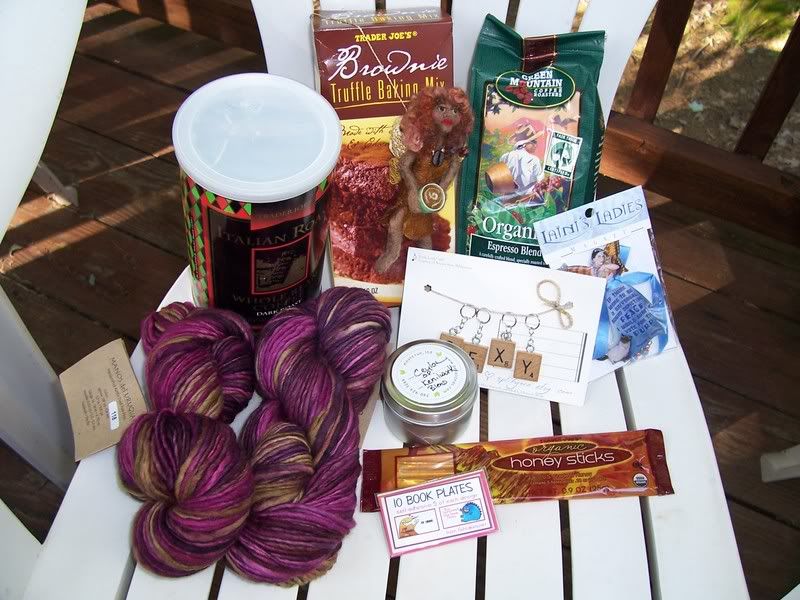 Aren't these stitch markers great! That's me! S-E-X-Y!! :)


She even got me my own specially blended tea! I had told her that Starbucks used to have this great tea called Winter and how I had been looking for it ever since Starbucks switched tea companies. I told Megan how I had searched the Internet to avail because I could not find my Winter Tea and I guess I must have told her what was in it and she went to a specialty tea store and shared my frustration over trying to find this tea and they whipped up a special batch on the description! You're AWESOME Megan!! I haven't tried it yet, but it certainly smells as I remember the Winter Tea did! She got me honey sticks to go with it! Of course I told her that if this special blend is right she will have to purchase my monthly supply for me *giggle*


She even got something for my inner child and her affinity for fairies! She made me this felted latte fairy! I have her hanging in my kitchen already!


Last, but certainly not least, look at this awesome yarn! Manos del Uruguay! Look at those yummy colors! I can't wait to figure out what I am going to do with this great yarn! Anyone have a suggestions??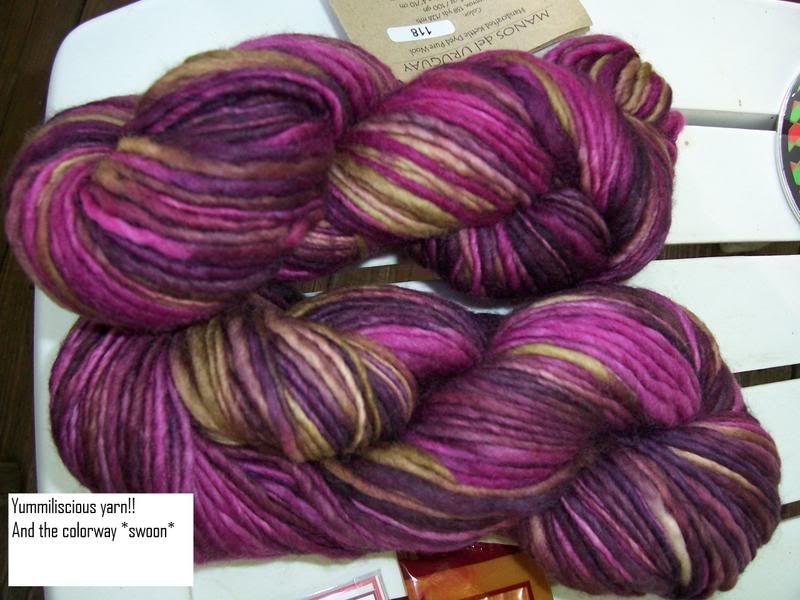 Last weekend I told you all about the pretty fuchsia plants I got. Well here they are hanging off my front porch. I love these plants.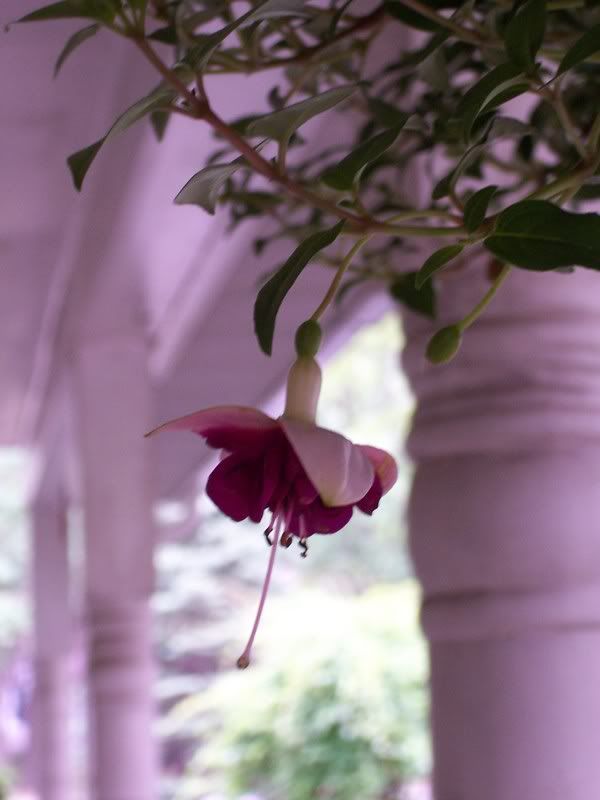 Here's a picture of Frisco in another one of his favorite spots. I lay back on the couch and stretch out and in 2.2 seconds flat there's Frisco wanting to lounge and sleep on my legs. He's such a strange kitty, but I wouldn't trade him for the world! *like I could, any cat owner knows they own us and not the other way around*


As for knitting/crocheting updates - not much. Still working on the baby blanket, though I do only have the edging left. If I can just figure out what I want to do for it! I did complete one of the Mason*Dixon Warshcloths and started a second. My gf Tracey just moved in to a new apartment and she has no pot holders, dishrags or anything, so I thought I'd make her a nice kitchen set with all this cotton yarn I have! I'll post project pictures soon!